A Vendor Management Software (VMS) for Healthcare System. Ringo VMS – The People Technology® is your winning solution!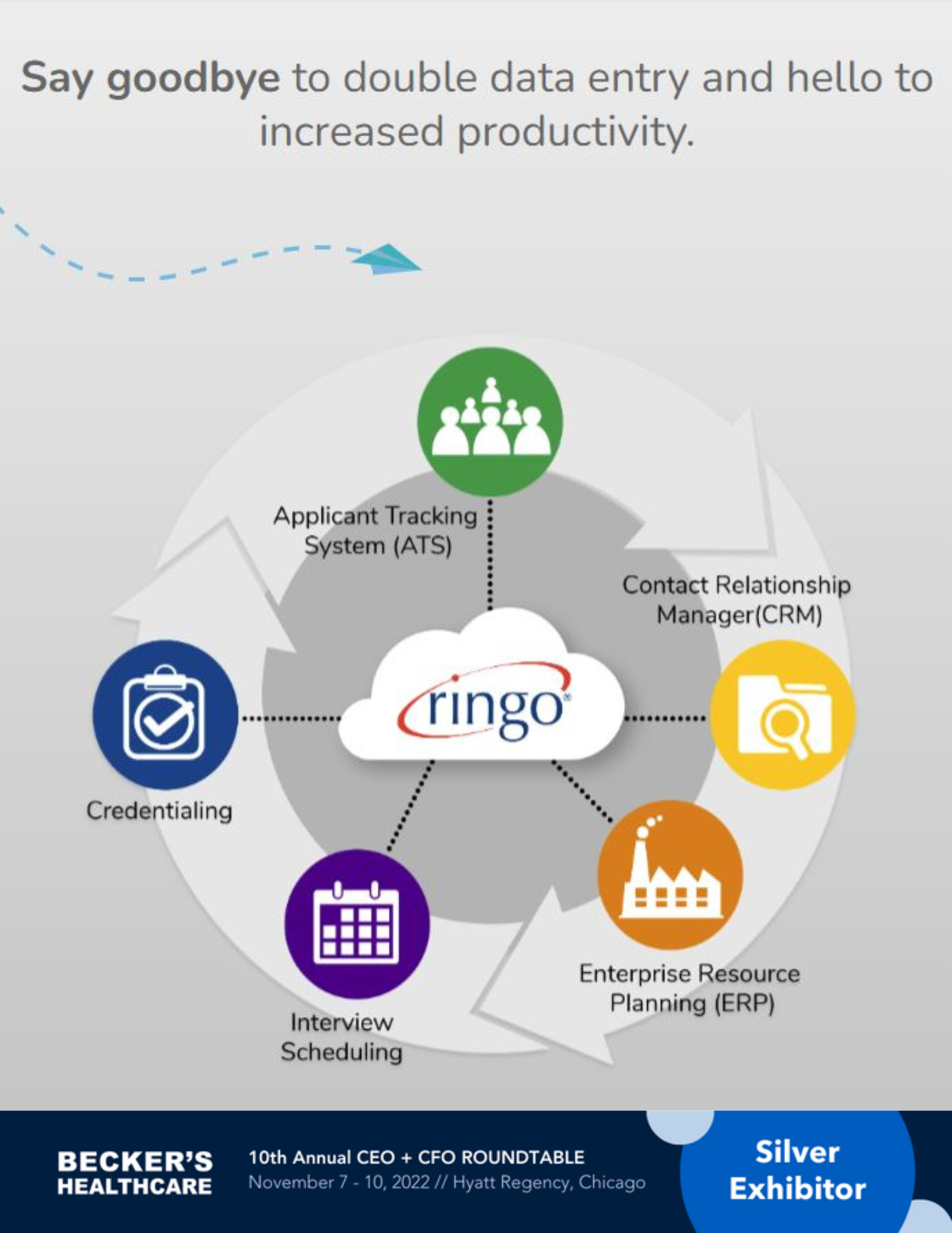 While contingent workforce software made its debut almost 30 years ago, the Healthcare industry become slow to adopt. A Vendor Management Software (VMS) allows a Hospital System or Healthcare entity to manage the requisition to check process of non-employee labor. Ringo VMS – The People Technology® provides flexible reporting capturing workforce spending and expenses in totality.
While you may think it's time-consuming or expensive to integrate with your IT infrastructure, Ringo VMS is a no start-up cost, standalone technology to manage all your contingent workforce. Our brand new '22 Platform is a modern technology complete with built-in workflows producing industry solutions to bring organizations consistent and standardized processes for total workforce visibility.
Get rid of rogue spending, inconsistent and unstandardized processes that may bring risk to the organization. HRIS systems have improved in the last 5 years and Ringo VMS brings forth the look and feel of a total record management system allowing you to manage your contingent workforce in one place.
How do you ask? With state-of-the-art technologies such as APIs, Ringo VMS allows for seamless integration with a company's IT infrastructure.
In the last year we have been releasing feature enhancements in real time which will allow organizations to view our technology platform as the beginning, the middleware or standalone technology. No matter where the program management engages, our open APIs make it easy to integrate with other talent marketplaces for a consolidated workforce solution.
Whether front office HRIS system or back office financial system, Ringo VMS today is set to become part of a centralized solution for your organization.
The top five benefits that organizations will realize from integrating our VMS:
1 - Total Contingent Workforce Management
As we mentioned previously, our VMS centralizes all your workforce data into one place. Streamlining your contingent workforce is a critical component of your overall business goals.
One place – your business has total visibility into your entire continent workforce. Ringo. Our platform manages your process, your business to allow for enhanced workforce planning.
2 – Processes Streamlined
Giving back HR Staff time – allow Ringo VMS to manage your administrative tasks into one easy to use visual and actionably "My Tasks" approach to increase efficiency and business outcomes. Your teams will have the best view of the contingent workforce. Onboarding a clinical or non-clinical employee just became quicker, more efficient and engagement rises.
3 – Privileging and Compliance Managed
100% total transparency in onboarding – With Ringo VMS, one can literally see where the ball is bouncing and who is responsible for taking the onboarding task forward. From Name Clear, Risk, Presentation, Privileging to Ready to Work at the location, we make it easy. You provide the requirements, and the system does the tracking. Time saved and faster to process allowing your team to forge the relationship with the individual from Day 1.
Ringo has open APIs to integrate with the organization's HR system allowing for an overall visibility of all your contingent workers. Bring less risk to your company and in compliance with all legal and regulatory demands.
4 - Cost Savings!
The use of Ringo VMS system will reduce overall spend. Integration will help to maximize additional cost containment into savings as it reduces your internal administrative burden allowing your teams to focus on their roles and grow your business!
Additionally, your workforce is optimized. The end-to-end tracking of contingent labor means you can make your hiring decisions based on facts, mitigate risks and reduce staffing overages by minimizing overall labor costs.
5 – Analytics on Demand!
The use of Ringo VMS system will reduce overall spend and your analytics will provide you the robust and flexible reporting your organization needs to produce results. Ringo's new 2023 Features show you what's in the windshield. Our clients have immediate access our Ringo Forecast Tool™! The vendor community can tell you per Locum or contingent worker, what is booked or hours forecasting to allow production analytics to give you greater visibility in what's coming in costs. Our Ringo Flexible Report™ grids across our platform further allow organizations to arrange your data the way you need to view it. Our robust reporting can tell you to the minute the Ringo Service Type billed by Locum or contingent worker by hours, dollars or locations they have works now and historically. Imagine the power of knowing how much a Locum has cost over time to allow organizations to make permanent hiring decisions further producing overall cost savings to your programs.
6 – Ringo's Core Value: Collaborate to Create and Solve
We live this core value. By giving a Voice of the Customer as well a Voice of the Vendor, we immediately built a bridge. By allowing our partners to come to our table, we engage with our proven process:
Let's Go!
L - Listen & Learn

E - Engage

T - Technology Solution

S - Simplify

G – Guidance

Ownership
Finally, we listen and learn to engage and provide Ringo VMS Technology Solution to simplify your program and process. Ringo teams are comprised of industry leaders in the technology and staffing business. Once we hear you, we provide you best in practice guidance and take ownership for our partnership.
Transparency will reduce miscommunication to create a collaborative work relationship for your contingent workforce managed in our configurable workflow to centralize the staffing process.
Interested in learning more about the benefits of integrating Ringo VMS with your systems or utilizing a standalone robust and configurable workflow for your program? Or how through open APIs Ringo VMS is a no start-up cost solution for your organization? Click here to learn more and schedule a 20-minute exploratory call. Ringo VMS is just what the doctor ordered!
Contact us Today: sales@goringo.com to learn more about Ringo VMS-The People Technology...your winning solution! www.goringo.com