The Ringo VMS helps nurse managers improve efficiencies by providing the tools to streamline workflows, hire qualified vendor-matched candidates, automate credentialing, and easily manage electronic timesheets.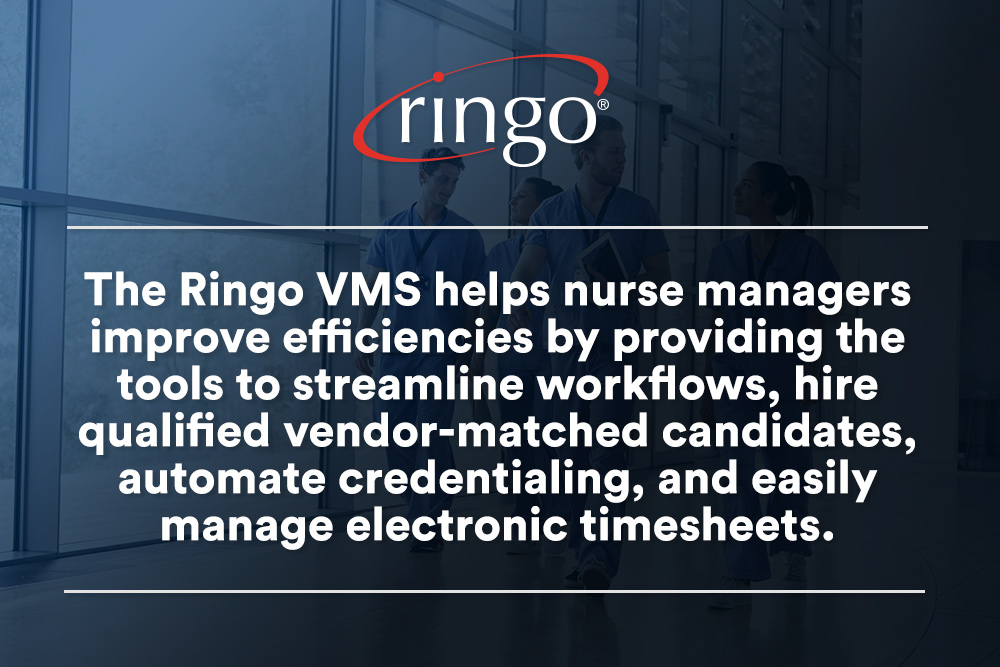 Nurse managers do it all. They are tasked with overseeing unit operations, maintaining a standard of excellence among a team of nurses, and also take on responsibilities like budgeting, staffing, and administrative duties. To do the job of a nurse manager with optimal efficiency, the implementation of proper technology is critical. The Ringo Vendor Management System (VMS) was created with nurse managers in mind and is vendor-funded to accommodate even the smallest accounts.
Advanced vendor management technologies, such as the Ringo VMS, help healthcare facilities maximize their locum tenens hiring efforts, mitigate side effects of the nursing/physician shortage, reduce nurse/physician burnout, promote excellent patient care, and improve bottom lines by illuminating cost-cutting opportunities.
Here's how:
Recruitment & Retention
Many healthcare facilities are utilizing various forms of temporary labor to offset the effects of persisting countrywide nursing and physician shortages. This includes locum tenens, per diem nurses, and travel nurses.
Juggling all of these alternative work arrangements can be challenging, especially in rural areas that have absorbed the biggest hits from the aforementioned shortages. The Ringo VMS helps maintain effortless connection between decision-makers and staffing vendors to streamline your hiring processes and ensure proper credentialing to help you make the best hires, while reducing your time-to-fill. VMS implementation leads to a simplified, automated hiring process wherein nurse managers can:
Screen all potential nursing candidates
View resumes and credentials for all potential hires
Send requests to vendors
Accept or deny a vendor-matched candidate
All via one intuitive platform. In essence, it's Tinder for temporary labor.
Building an excellent team of nurses means retaining your best talent. To do that, nurse managers have to be mindful of individual overtime hours and take steps to prevent burnout. The Ringo VMS helps to do that too, by providing total transparency into your nurse and physician schedules. The Ringo platform easily manages both staff and locums, while also ensuring smooth onboarding. Customized alerts can help ensure the proper staff certifications and accreditations never expire without ample notice.
Better Budgeting
Nurse managers are responsible for staffing within an allotted budget while also developing more efficient workflows. The Ringo platform provides tools such as electronic timesheets and real-time reporting, to easily track and manage finances across multiple departments. Total transparency into your spend enables you to pinpoint and correct problem areas in your budget. In fact, Ringo users report average annual savings of 23% on locums-related spend.
Automate Time-Sucking Administrative Procedures
Administrative tasks are time-consuming and can impede on the overall productivity of your best talent if you are lacking the tools needed to improve efficiencies. The Ringo VMS makes tedious paper timesheet recording obsolete and eliminates manual credentialing practices by enabling digital filing and automatic credentials tracking.
Schedule an Exploratory Call or Demo to Find Out How Ringo Can Help
The Ringo VMS platform can help you connect with vendor-matched candidates, so you can be sure you're recruiting the very best talent for your team. Schedule an exploratory call to find out how Ringo's automated workflows, total customizability, and consolidated billing options work to ensure there are no mix-ups regarding payroll, benefits packages, overtime spend, or credentialing.
To learn more about our innovative solutions and partnering, SCHEDULE A CALL or BOOK A DEMO, and subscribe to our news feed for industry insights and product updates.