Nurse and physician shortages are expected to intensify throughout the next decade. Locum tenens and VMS technology improves patient care, staff engagement, and efficiencies.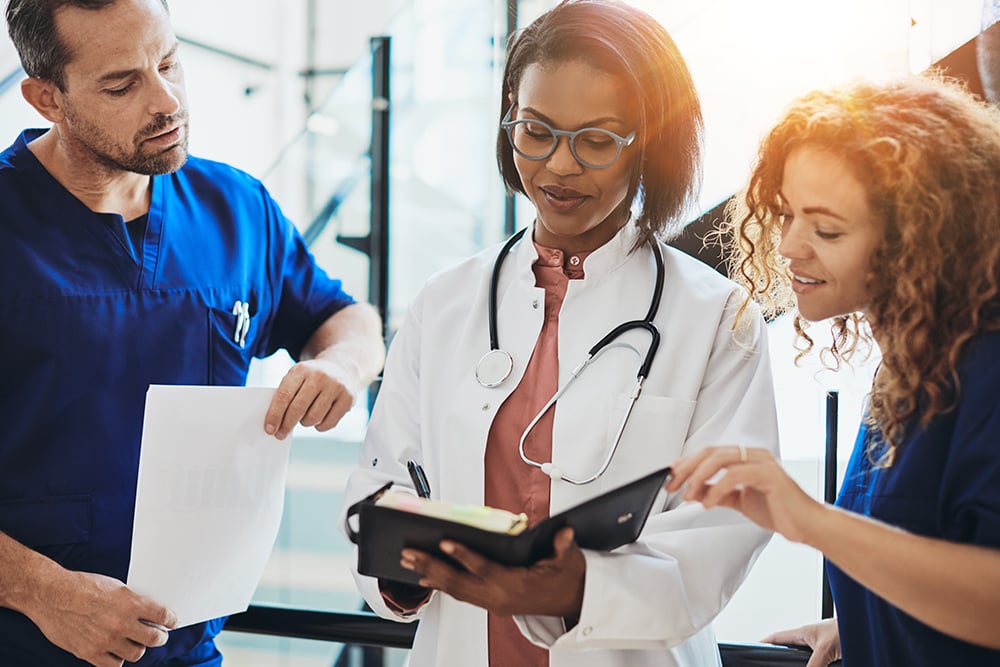 An ongoing medical staffing shortage has created pressing issues for hospitals, physicians groups, and outpatient and ambulatory care facilities alike, hitting rural communities especially hard. This dilemma is fueled by a growing and aging population, as well as a regulatory environment non-conducive to recruiting and cultivating top talent. Difficulties attracting and retaining top nurses and physicians increase patient risks, and exacerbate the risk of staff burnout.
Due to the unfavorable staffing landscape, locum tenens—Latin for "temporary," "placeholder" or "substitute"—healthcare workers are more vital than ever to the successful operation of many hospitals throughout the country. RINGO VMS is the healthcare management software providing the workflow optimization and big data insights necessary to make the best locum tenens placements, with ZERO start-up costs.
A Snapshot of the Medical Staffing Landscape
According to a recent report by the American Association of Medical Colleges (AAMC), by the year 2030:
The American population is expected to grow to nearly 360 million.
The population of Americans aged 65 and older is expected to increase by 50 percent.
27.2 percent of doctors currently practicing will be eligible for Medicare.
There could be a shortage of between 42,600 and 121,300 physicians.
Insufficient laws governing staff-to-patient ratios, and subsequently, understaffing and burnout, are a topic of concern in many regions, including Massachusetts, where in 2018, nurses rallied around a bill that would establish nurse-patient assignment limits to improve patient care and reduce burnout. The bill was ultimately voted down.
For these reasons, many specialties are in high demand, especially those that are less "sexy," and therefore, less likely to attract talented new graduates, including family medicine, internal medicine, and radiology. As a result, the current medical staffing landscape has increased levels of competition between medical facilities. According to a benchmarking report by the Association for Advancing Physician and Provider Recruitment (AAPPR), neurology takes the longest time to fill, with an 211-day average, followed by family and internal medicine, which typically demands about six months.
Solution: Locum Tenens Workforce

Many hospitals and other healthcare facilities across the country have discovered the benefits of utilizing locum tenens stand-ins to improve patient care, empower employees, and even help the hospital's bottom line.
Here's how:
The most important aspect of healthcare locum tenens hires help improve is, of course, patient care. Hospitals in remote and rural areas are often so short-staffed, and therefore overworked, that this becomes compromised. Locum tenens workers, including travel nurses and physicians, help bridge the gap in levels of care throughout the country, by opening up more appointment availability and expanding patient access to medical attention, regardless of where they call home.
Encourage Staff Engagement
When a medical professional leaves their position (retires, relocates, is fired, or passes away), it can often mean a great additional burden is left to the remaining members of the team. Locum tenens workers create opportunities to preserve your medical staff's passion, and even maintain overall engagement across departments, by reducing time-to-fill.
Locum tenens staff alleviate the urgency to fill permanent positions, buying your recruitment team time to find the perfect fit, while also testing potential candidates. Employee turnover can be costly and disrupt the flow of your hospital. It's important to find the right fit, the first time around!
These temporary workers are often highly talented, and may end up being the permanent solution to your staffing problems. The very nature of such hiring provides the flexibility needed to "feel each other out" while a short-term contract plays out.
Schedule an Exploratory Call or Demo to Find Out How RINGO Can Help
The RINGO VMS platform can help you connect with vendor-matched candidates, so you can be sure you're recruiting the very best talent for your team. Schedule an exploratory call to find out how RINGO's automated workflows, total customizability, and consolidated billing options work to ensure there are no mix-ups regarding payroll, benefits packages, overtime spend, or credentialing.
Additionally, the RINGO VMS helps sync your front and back office, so everyone can work together to achieve the common goal of providing the best staff possible, without breaking your budget.
---
To learn more about our innovative solutions and partnering, SCHEDULE A CALL or BOOK A DEMO, and subscribe to our news feed for industry insights and product updates.